This tutorial will take you through the Eight steps necessary to make your order here on CPGCI:
Step 1: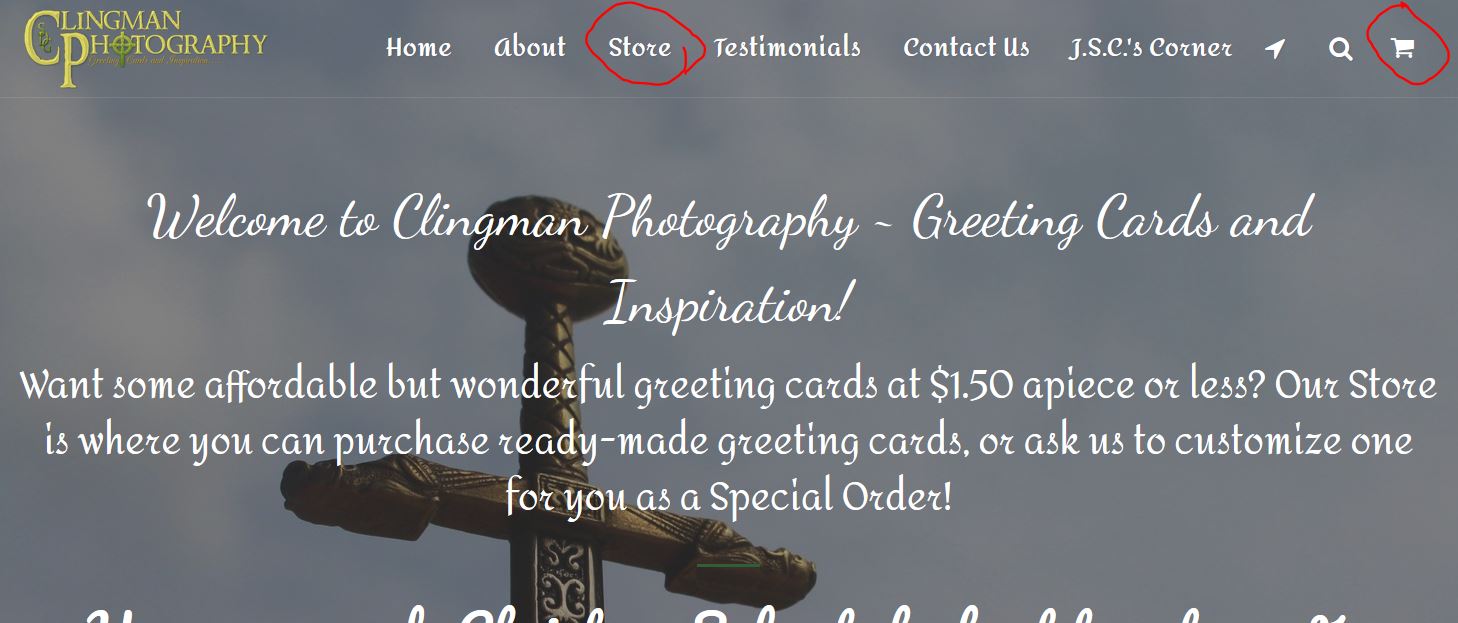 Our Store is in our website Dashboard (3rd link to the right; circled in red). Your cart is the farthest button to the right (also circled in red). To start, click "Store."
Step 2: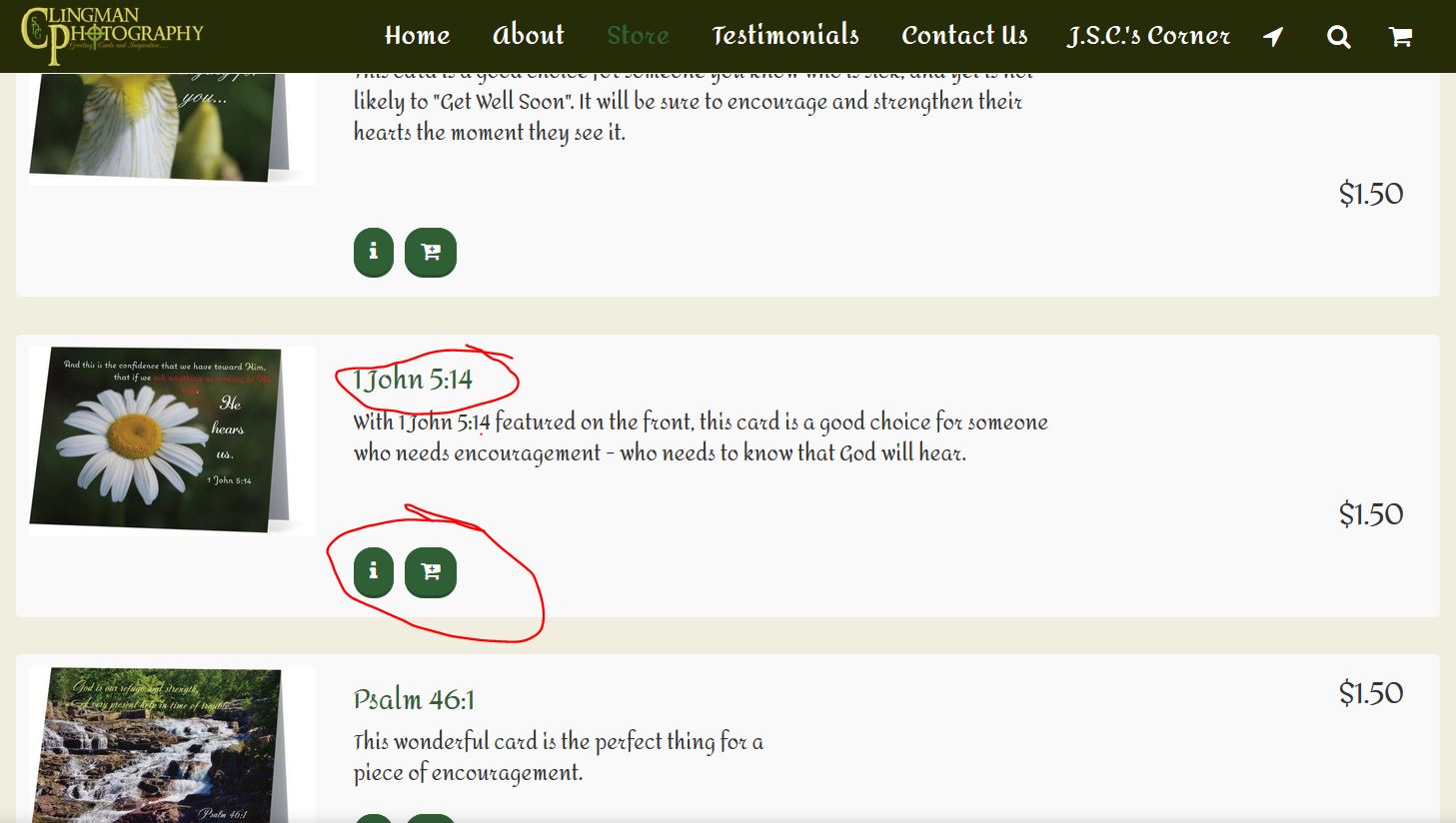 The next step, of course, is to select the cards you wish to order. Either click the cart icon below each product's blurb (circled in red) or the "i" icon for more info. Clicking the "i" icon usually does not produce more info, since the info you see on the store page is pretty much all there is to say about most of our products. Clicking the cart icon makes your cart appear to the right of your screen (see below).
Step 3: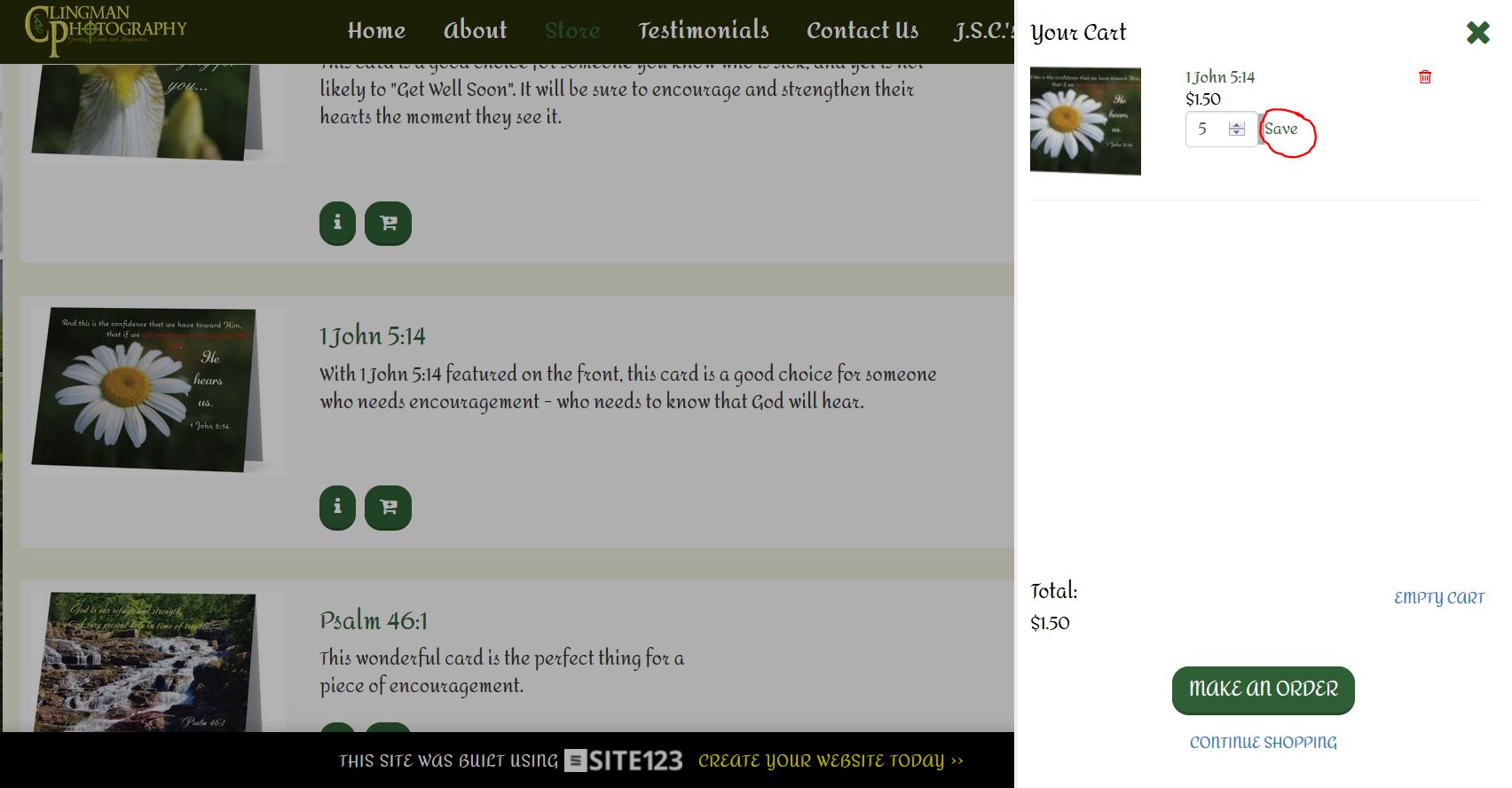 To change the amount you wish to buy, type the desired number of cards into the box beside each individual card that you ordered. In this case, I only ordered one. To apply your changes to the amount, click "Save" which is right beside the text box containing your amount (circled in red).
Step 4: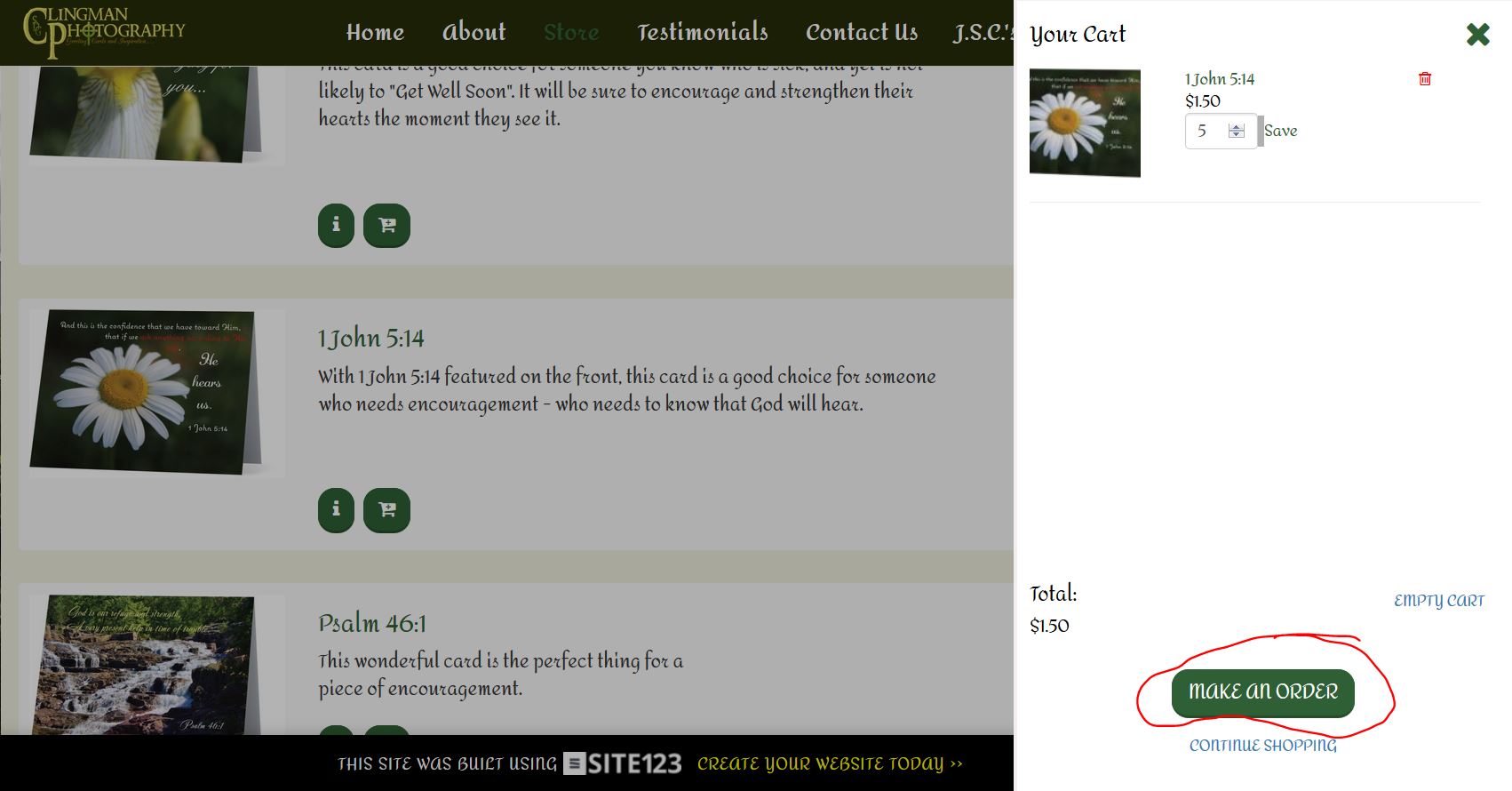 Next, click the green button with the words, "Make an Order" (circled in red) or the blue lettering below it that say, "Continue Shopping."
Step 5:
The next step is to fill in all required address information (circled in red). Your phone number will almost never be used by us unless absolutely necessary, but it is still required. While entering your info and selecting your delivery options, you will have the chance to apply a coupon code to your order (blue lettering circled in dark blue).
Step 6: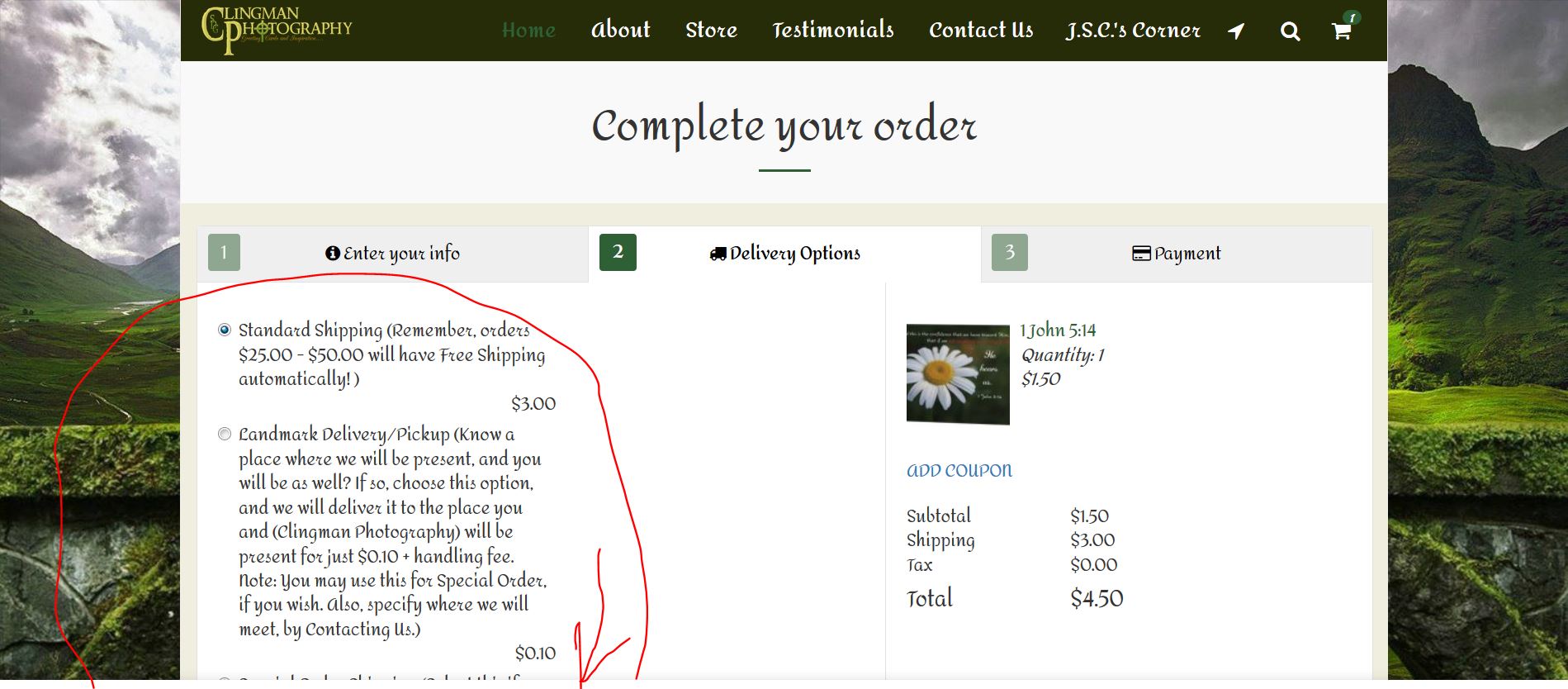 Next step - select your Shipping options. Standard shipping almost always applies to your order, unless you are ordering E-Gift Cards (where E-Shipping applies; that is, emailing), or where you have a Special Order (in which case Special Order Shipping applies). As stated above, you still have an opportunity to apply a Coupon Code to your order.
Step 7:

Presently, our only Payment Method is "Offline Payment", which has nothing to do with phones, although there is a phone icon next to the green button that says "Offline Payment" (circled in red). Select that, and continue on to the next step.
Step 8:

Your order is completed, except for the payment part. Follow the instructions: In short, you are supposed to mail a check to our headquarter's address:
Clingman Photography
19143 State Route H
Winona, MO 65588
The check must be received within 30 days of your order. At your order's completion, you are eligible for a $1.00 off coupon code applicable to your future order on CPGCI. If you wish to receive this coupon code, Contact Us.
Well, that sums up all that there is to do while making an order on CPGCI. I hope this tutorial was enlightening, and that you will be free of all trouble while making an order. If ever you have a question, just contact us - we're happy to help.
Or, alternatively, just comment below if you have a question concerning this tutorial. God Bless! Or, as they say in Ireland: Slán go fóill!